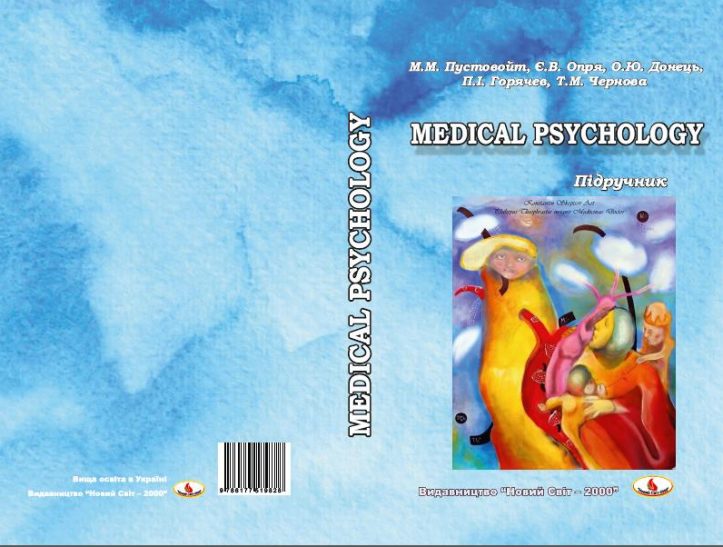 Medical psychology («Медична психологія»): Підручник
Medical psychology («Медична психологія»): Підручник для студентів вищих навчальних закладів ВМНЗ IV рівня, англійською мовою. Під редакцією д. мед. н., проф. Пустовойта М.М. [Пустовойт М. М., Опря Є. В., Донець О. Ю. та ін.] – Львів: Видавництво «Новий Світ – 2000», 2023. – 350 с.
ISBN 978-617-7519-82-8
Колектив авторів: д.мед.н., проф. Пустовойт М. М., д.мед.н. Опря Є. В., к.мед.н. Донець О. Ю., к.мед.н. Горячев П. І., к.мед.н. Чернова Т. М.
Abstract
This medical psychology textbook (tutorial) was written owing to the need to teach foreign students in English according to the medical psychology program approved in Ukraine. Its content includes general theoretical issues (the development of medical psychology in the world and in Ukraine; the concept of mental health and illness; the bio-psycho-social approach in medicine; the main types of attitude toward a disease and their influence on the results of its treatment; etc.) and the practical aspects of medical psychology (the psychology of the treatment and diagnostic process; medical ethics and deontology; psychosomatic disorders and the approach to their treatment; psychological features of patients with various diseases; psychological aspects of addictive, suicidal behavior, thanatology and euthanasia; prevention of mental disorders and the fundamentals of psychotherapy). The textbook was written in accordance with the program approved by the Ministry of Health of Ukraine and is designed for the students of higher medical educational institutions, doctors of various specialties, and future medical psychologists.
Анотація
Даний підручник (посібник) з медичної психології був написаний у зв'язку з необхідністю викладати цей предмет іноземним студентам англійською мовою згідно з затвердженою в Україні програмою з медичної психології. Його зміст включає загальнотеоретичні питання (розвиток медичної психології у світі і в Україні; поняття психічного здоров'я та хвороби; біо-психо-соціальний підхід у медицині; основні типи ставлення до хвороби та їх вплив на результати її лікування; тощо) та практичні аспекти медичної психології (психологія лікувально-діагностичного процесу; медична етика та деонтологія; психосоматичні розлади та підхід до їх лікування; психологічні особливості пацієнтів з різними захворюваннями; психологічні аспекти залежної, суїцидальної поведінки, танатології та евтаназії; профілактика психічних розладів та основи психотерапії). Підручник написаний відповідно до програми, затвердженої Міністерством охорони здоров'я України, і розрахований на студентів вищих медичних навчальних закладів, лікарів різних спеціальностей та майбутніх медичних психологів.
CONTENTS
СHAPTER 1. INTRODUCTION TO MEDICAL PSYCHOLOGY……………. 8
Subject and objectives of medical psychology, its links with other fields of knowledge. The main lines of a psychologist's work in the health care system……………… 8
The development of medical psychology in the world and in Ukraine….. 11
Methods of examination used in medical psychology………………………… 21
The definition of mental health; levels of mental health and psychological adaptation in people………………………………………………………………………………………. 31
CHAPTER 2. PERSONALITY AND ILLNESS. THE INTERNAL PICTURE OF ILLNESS………………………………………………………………………………………………………… 34
2.1 The Structure of the Human Personality………………………………………… 34
2.1.1.Temperament………………………………………………………………….. 35
2.1.2. Character……………………………………………………………………… 38
2.1.3. Intelligence and Other Aptitudes……………………………………….. 44
2.1.4. Assessing Personality………………………………………………………. 46
2.1.5. The influence of age and chronic diseases on the human personality    48
2.2. Personality Accentuations………………………………………………………….. 52
2.3. The Internal Picture of the Disease………………………………………………. 56
2.4 The Patients' Attitudes toward Illness. The Impact of the Patient's Attitude toward Illness on its Course and Outcome. Aggravation, Simulation, Dissimulation and Hospitalism    61
2.4.1. Personality and disease…………………………………………………… 61
2.4.2 The classification of patients' attitudes toward illness……………. 62
2.4.3 Diagnosing the patients' reactions and attitudes to illness……… 66
2.4.4. The impact of the patient's sttitude toward illness on its course and outcome. Aggravation, simulation, dissimulation and hospitalism………… 68
CHAPTER 3. THE STATE OF MENTAL FUNCTIONS AND ILLNESS….. 73
3.1. The cognitive processes and illness……………………………………………… 74
3.1.1. Cognitive processes…………………………………………………………. 74
3.1.2. Interrelations between the state of health and cognitive processes         80
3.1.3. The role of the patients' intelligence level in medical settings….. 84
3.1.4. The effect of speech disorders on the treatment process…………. 88
3.2. The impact of emotions and their expression on the state of health. The effect of physical illness on the patients' emotions, volition and behaviour………………….. 91
3.2.1. The affective (emotional) processes and mood. Motivation of behaviour. Deliberate goal-directed behaviour…………………………………………………… 91
3.2.2. Emotions and illness……………………………………………………….. 95
3.2.3. Volitional personality qualities and illness………………………….. 102
3.3. Consciousness and illness………………………………………………………….. 104
3.3.1. The nature of consciousness……………………………………………… 104
3.3.2. The psychodynamic approach in psychology and medicine. Topographic and structural theories of mind after Z. Freud……………………………. 106
3.3.3. Normal versus changed states of consciousness. Consciousness and illness    109
CHAPTER 4. PSYCHOLOGY OF MEDICAL WORKERS……………………… 114
4.1. Professional and psychological qualities of health workers………………. 114
4.1.1. The main motives for choosing a medical profession. Career guidance and professional selection of health workers………………………………. 114
4.1.2. Important professional qualities of a doctor. The psychology and ethics of healthcare……………………………………………………………………… 121
4.2. The emotional burnout syndrome and professional deformation in health care providers………………………………………………………………………………………………. 129
4.3. The basics of communication with colleagues, the conditions for creating a healthy psychological climate in a team of health professionals…………………….. 141
CHAPTER 5. The psychology of the diagnostic and treatment process…………. 150
5.1. The psychological bases of communication in the treatment
process…………………………………………………………………………………… 150
5.1.1. Brief introduction to communication psychology…………………. 150
5.1.2. A healthcare provider's communicative competence……………… 155
5.2. Psychological features of the diagnostic process…………………………….. 160
5.3. Conflicts in the medical sphere and ways of their resolution…………….. 164
5.3.1. General information concerning conflicts…………………………… 164
CHAPTER 6. PSYCHOSOMATIC DISORDERS…………………………………… 176
6.1. The psychosomatic approach in psychology and medicine………………. 176
6.1.1. The psychosomatic (biopsychosocial) interactions………………. 176
6.1.2. Theories of psychosomatic (biopsychosocial) relations………… 179
6.1.3. Psychological defence mechanisms………………………………….. 185
6.2. Emotional stress and illness……………………………………………………….. 188
6.2.1. The concept of adaptation and disadaptation……………………… 188
6.2.2. Psychological stress. The general adaptation syndrome as a stress response  190
6.3 Psychosomatic disorders…………………………………………………………….. 193
6.3.1. Classification of psychosomatic disorders…………………………… 193
6.3.2. Association between the personality traits and psychosomatic disorders         194
6.3.3. Prevention of psychosomatic disorders……………………………….. 196
CHAPTER 7. PSYCHOLOGACAL FEATURES OF PATIENTS WITH DIFFERENT DISEASES………………………………………………………………………………………… 202
7.1. Associations between physical and psychological problems……………… 202
7.2. Psychological challenges in internal and infectious diseases……………… 204
7.3. Psychological issues in gynaecology…………………………………………….. 217
7.4. Age-dependent psychological features in patients…………………………… 225
7.5. Psychological features of surgical patients…………………………………….. 231
7.6. Psychological issues in oncology………………………………………………… 236
7.7. Psychological issues in other branches of medicine………………………… 240
CHAPTER 8. PSYCHOLOGICAL ASPECTS OF ADDICTIONS, SUICIDAL BEHAVIOUR, THANATOLOGY AND EUTHANASIA………………………………………………. 261
8.1. Psychological aspects of dependant behaviour………………………………. 261
8.2. Suicidal behaviours …………………………………………………………………. 272
8.2.1. The definition of suicidal behaviours ; the statistics of suicide… 272
8.2.2. The causes of suicide. The suicide risk groups. The common characteristics of suicide (after E. Shneidman)………………………………………………. 273
8.2.3. Prediction of suicidal behaviour……………………………………….. 276
8.2.4. Suicide risk assessment and suicide prevention…………………….. 279
8.3. Psychological aspects of dying and death……………………………………… 285
CHAPTER 9. PSYCHO-HYGIENE AND PREVENTION OF MENTAL DISORDERS. THE BASES OF PSYCHOTHERAPY…………………………………………………………. 293
9.1. The concept of psycho-hygiene…………………………………………………… 293
9.2. The prevention of mental disorders……………………………………………… 297
9.2.1. Primary prevention of mental disorders……………………………… 299
9.2.2 Secondary prevention of mental illness………………………………… 301
9.2.3. Tertiary prevention of mental illness…………………………………… 304
9.3. The bases of psychotherapy……………………………………………………….. 307
9.3.1. General issues in psychotherapy……………………………………….. 307
9.3.2. Rational psychotherapy and suggestion therapy………………….. 310
9.3.3. Techniques of psychotherapy without a therapist…………………. 312
9.3.4. Hypnosis: an adjunct to psychotherapy………………………………. 317
9.3.5. Psychoanalytic (psychodynamic) approach…………………………. 321
9.3.6. Behaviouristic approach………………………………………………….. 323
9.3.7. The cognitive approach and NLP……………………………………… 326
9.3.8. The humanistic (person-centred) approach…………………………. 329
9.3.9. Group psychotherapy……………………………………………………… 333
9.3.10. Expressive therapies………………………………………………………. 337
9.3.11. Psychotherapy and crisis intervention in somatic medicine………………. 339